Great deals to be had…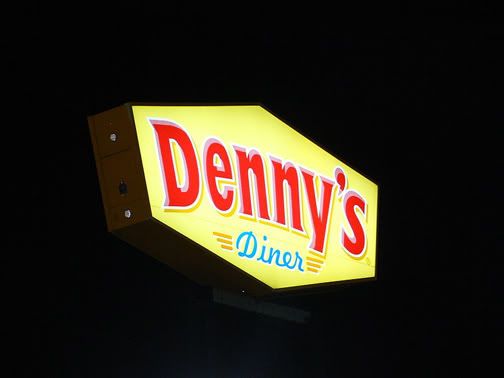 DALLAS—Despite fighting a lawsuit that would make patrons sign a waiver before eating meat at their restaurants, Denny's welcomed local big fat guy Bill Blubbard yesterday night for a T-bone steak dinner for the low price of just $6.99. Denny's fry-cooks on staff that night were puzzled being that not a single person had ordered steak in the past three months, but filled his order regardless.
"Can you believe I can get steak for just $6.99? That's unbelievable!" When informed the low price may be because of both the low-grade meat and the manner of preparation, Blubbard replied between chews, "Bull honkey! Tastes just fine to me!" Blubbard took more than two hours to finish his steak, ordered rare, since it was "so chewy." "Really lets you grind out every bit of taste, doesn't it? Mmm, mm! That's good eatin'!"
Fry cook Randy Melanby remained nervous as he watched Blubbard go to town on his Grade-D slab of makeshift rubber. "We were using the steaks as doorstops since nobody ever orders them," he said. "Most people aren't so eager to learn what our idea of 'steak' is."
Blubbard as of his writing has survived his meal, but plans on continuing his reckless ways. "Next I'm gonna go to Long John Silver's and order shrimp," he announced as his stomach shuddered in fear.
▪ Follow on Twitter ▪ Follow on Tumblr ▪ Follow on Facebook ▪