Hello, "friends!"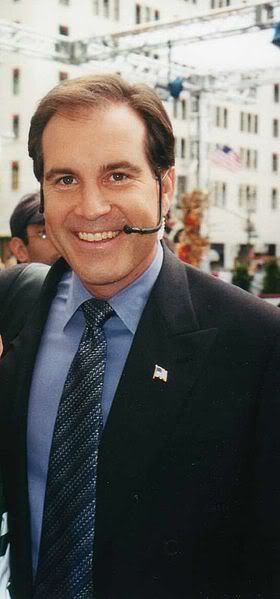 AUGUSTA—Inside sources have revealed that longtime CBS golf broadcaster Jim Nantz actually hates everything to do Augusta National Golf Course and everything to do with the Masters tournament in general, Some Guy Daily News has learned. Nantz copes with his hatred by delivering his entire broadcast, from Thursday to Sunday, dripping with sarcasm. Reports indicate nothing you see from Nantz onscreen is at all sincere.
Nantz has been employing the "kill them with kindness" technique, smarming it up on camera, gushing with inane hyperbole about how Butler Cabin (the site where the winners receive their green jacket) is the stuff of legend, when in fact it's just an old shack out in the woods. However, evidence is emerging that Nantz is beginning to crack, recently snapping at broadcast collegue Nick Faldo for having nicer looking hair. "How dare you!" Nantz shouted according to a source. "I'm Jim Nantz! NOBODY out-handsomes or out-hairstyles Jim Nantz!! I've done 25 years in this cesspool! Nobody can touch me!!!"
Furthermore, Nantz was overheard in his dressing room ranting, "How more of these do I have to do? If I over-enunciate David FEH-REH-TEH (Feherty) and Jose Maria OlaTHAAA-bulllll (Olazabal) any further, does give away my pent up rage a little too much? I can't take much more of this." Nantz then reportedly took a swig of 18-year-aged Glenlivet before spiking the bottle in his dressing room fireplace.
Nantz is famous for his opening of each telecast with a hearty, "Hello, friends!" Despite Nantz's Mr. Rogers-esque on-air persona, things are not what they seem.
▪ Follow on Twitter ▪ Follow on Tumblr ▪ Follow on Facebook ▪